Hopi Bird Silk Designs - Three Dresses
Dresses Available
Dresses with silk painting of stylized Hopi birds
Opaline Rose dress has tier of grey silk painting with Hopi birds and embroidered Native American quotations
Red Hopi dress has two front silk panels with stylized Hopi birds - black/red on white, and red/white on black.  Patchworks uses a red linen skirt and black viscose print in long red dress design.  Vogue pattern used: V1234 by Sandra Betzina.
Grey Hopi pinafore has
front silk panel of Hopi Birds with feathers and native American sayings combined with grey cotton panels from a Per Una skirt. Winter thickness. Slim fit: (UK size 8 bust, UK size 10 hips)
All dresses modelled by visiting Spanish teacher guest Marian
Printing Experiment:  Texture of gold on grey is made using cardboard print block.  Dried corn cob leaves which have fine narrow ridges were glued onto a cereal packet cardboard, varnished (acrylic water based) 3 layers.  The maze leaves fibre formation has quite pronounced ridges, which resulted, when printed, in natural looking printed lines.  I used epaissisant thickener with gutta as a printing paste applied to the cardboard printing block, then pressed on to the silk, and dried before adding the grey dye.  The end result after steaming was mostly a blur, but still provides an interesting painterly background texture, which could be developed with different colour overlays, where overlapping lines would create extra colours.
    Native American Quotations embroidered on silk: 
"Walk lightly in the spring: mother Earth is pregnant" ~ Kiowa

"Plants are our brothers and sisters; they talk to us and if we listen we can hear them" ~ Apache
"After dark all cats are leopards" ~ Zumi

"We will be known forever by the tracks we leave ~ 
Red Hopi Bird silk painting
Dress side panels show red/orange/black on white ground, and red/orange/white on black ground.
The vogue pattern facilitated side extended pieces which hang well in silk. Red linen bodice is made from a skirt.  Polyester red/orange print used for upper and center panel.
I've always been intrigued by Native American culture and found images of abstract bird designs of the Hopi Indians applied to pottery. They reached a height of decorative abstraction, adapting bird designs to fit over any curved pottery surface; a brilliant applied design, in natural pigmented black, terracotta and cream colours.
Red Hopi long dress with short capped sleeves, in linen, viscose and silk. Red linen skirt used as main body pieces. Polyester decorative front piece. Habotai silk panels white/black. Viscose orange dots on black bottom. Modelled by Marian at Exeter Quay warehouse area..
RED HOPI LINEN DRESS side view. Lower contrast pieces are as the Vogue pattern. Dress is shaped wide at lower hips, then tied to fit hip size. Black sleeves are model's own garment.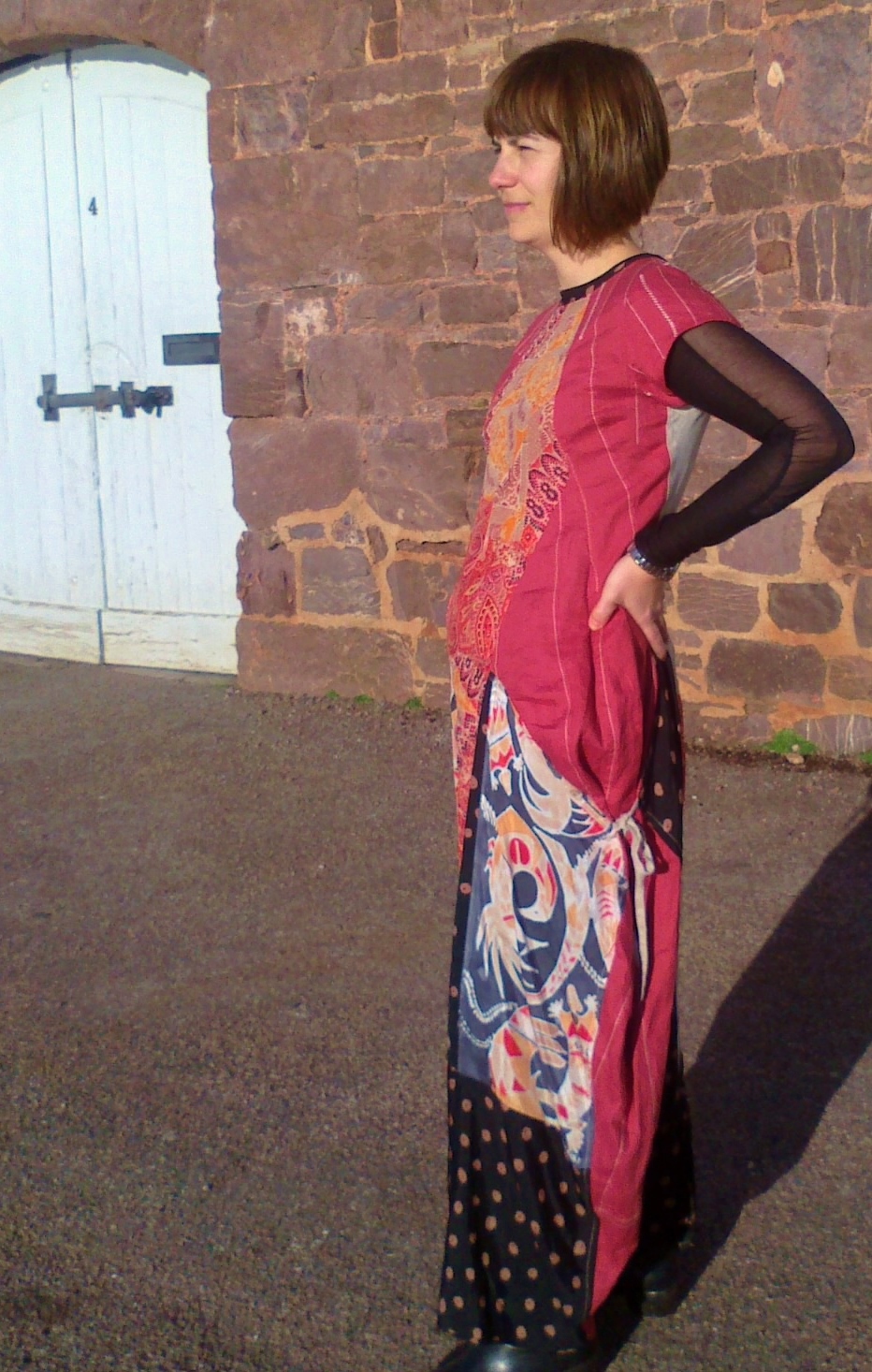 RED HOPI LINEN DRESS back view. Beige cotton back piece, with black spotted viscose lower panels.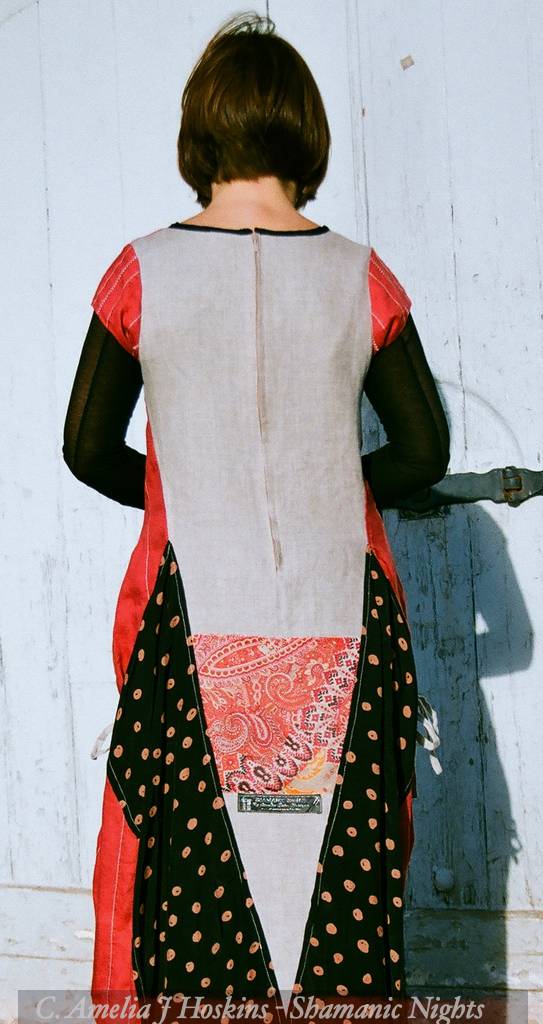 Autumn colours pinafore.  - Brown, russet and pinks of silk painted stylized Hopi bird sections.
Coordinating with brown fabrics.  Pattern taken from a dress bought in France. (Sold)