Tree has large heart shaped leaves which turn cerise, and dark red.  Found fallen on the path in early November.  The dye pigment is released by slow soaking in rain water, but changes to brown if boiled. (produces similar brown colour as sycamore leaves produce).  Pink is released into fabric in cold water.
Silk soaked in alum for mordanting: then soaked overnight in red leaf water.  Pigment was rapidly absorbed immediately, and turned deep pink overnight.  Washed out in rain water.  When hanging in air, starting to dry, it turned silver grey.  Finished result is a very good silver, good to coordinate with other grey fabrics.
Silk rinsed result deep pink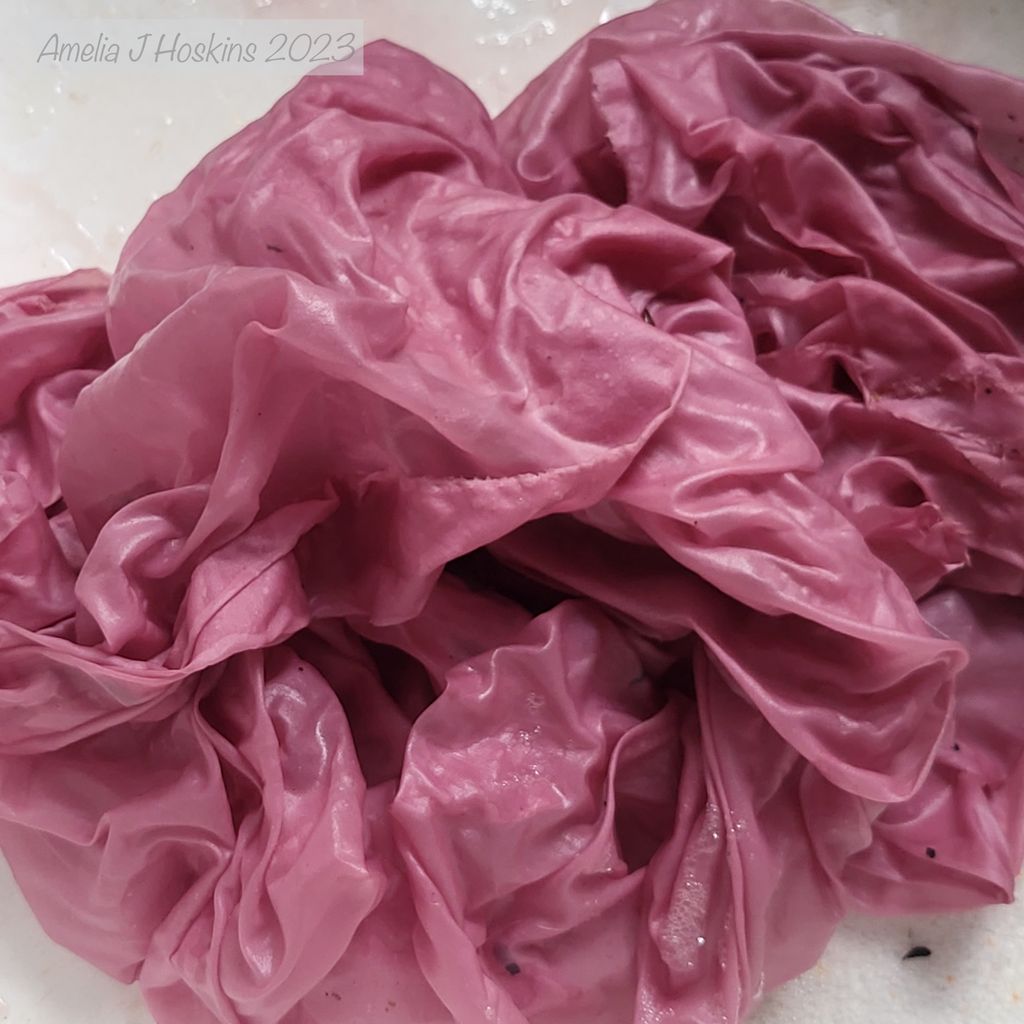 Indian Bean Tree  - Dye results:
PINK-SILVER on silk : GREEN on wool
EXPERIMENT - SOYA WAX RESIST - Ferns on Wool
Fine wool was previously dyed in Hawthorn bath (second soak): with splodgy rust marks needing disguise.  A good opportunity to experiment with resist techniques.
Fern leaves laid on, wool length folded over
Melted soya wax dabbed with stiff paint brush over the fern shapes.  Some red Indian Bean leaves placed in spaces.
Cloth folded rectangularly into flat piece.
Soaked overnight in cold bean leaf dye bath (after refreshing with more red leaves first).
On opening parcel, pink dyed area seen [subsequently turns grey , then green]
Wax washed out, and pressed out with brown paper, then washed again.
Wax is sticky on wool fabric.
RESULT - GREY GREEN WOOL
Feint imprint of fern in centre-right, from soya resist after washing out.  Ferns also produce dye showing russet fern shapes in places.  It would work with a darker overdye and suit silk better, as wax is more difficult to remove from wool.  More techniques are needed as the wool piece is still obviously patchy, needing disguise.
Indian Bean Tree - Steam Pressed Leaves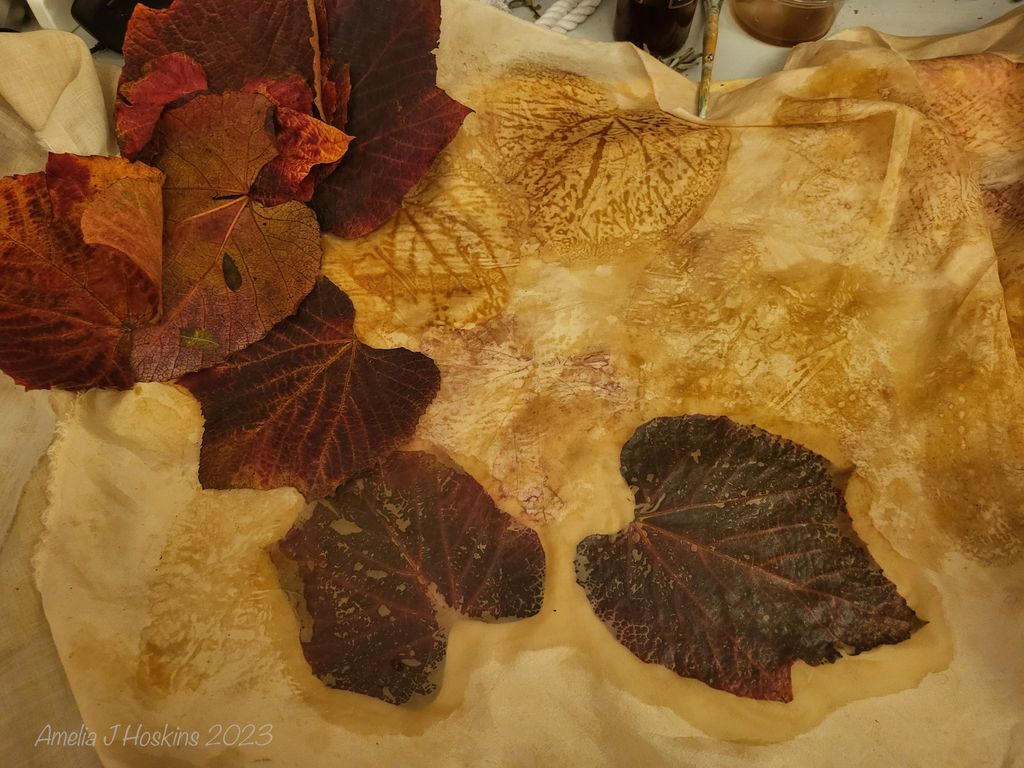 EXPERIMENT A:  Steam printing leaves on silk - on Tutsan dyed silk.  ABOVE IMAGE
Steam press red leaves (underside up) through protective piece of scrap cotton onto silk.
RESULT:  Red or reddish-brown outlines of leaf veins.  Not worked each time.  Leaves need to be rain water wet.
Paint leaves with old cider vinegar. Position over silk.  Fold silk over double, sandwiching leaves.
Steam press over leaves areas, pressing hard.
RESULT:  Brown outlines of leaves; appears burnt effect from vinegar. [good for paper printing]
EXPERIMENT B:  Bundle steaming, petals and leaves - on same silk from 'A'. BELOW IMAGE
Laying dried geranium petals, dried daffodils, red antirrhinum petals and other purple flowers, and  on silk.
Wrap around 1 inch wide strip of cardboard; roll around; make into bundle ring and tie with twine.
Suspend bundle over dye bath pan.  Steam for an hour.
RESULT:  'Antique' effect mottled brown and dull pink, with yellow from the daffodils. Motifs repeated in stripes, the width of the cardboard.
DISCOVERY:  Red Indian Bean tree leaves soaked COLD with fabric produces silver on alum mordanted silk, green on wool pre-dyed with hawthorn, and if used HOT steamed, gives brown textures onto Tutsan dyed silk.
GOOD textured antique background for painting over.