VINTAGE FASHION FAIRS are enjoying a wave of popularity as consumers look for more original garments which offer a higher emotional value than the current season's clothes.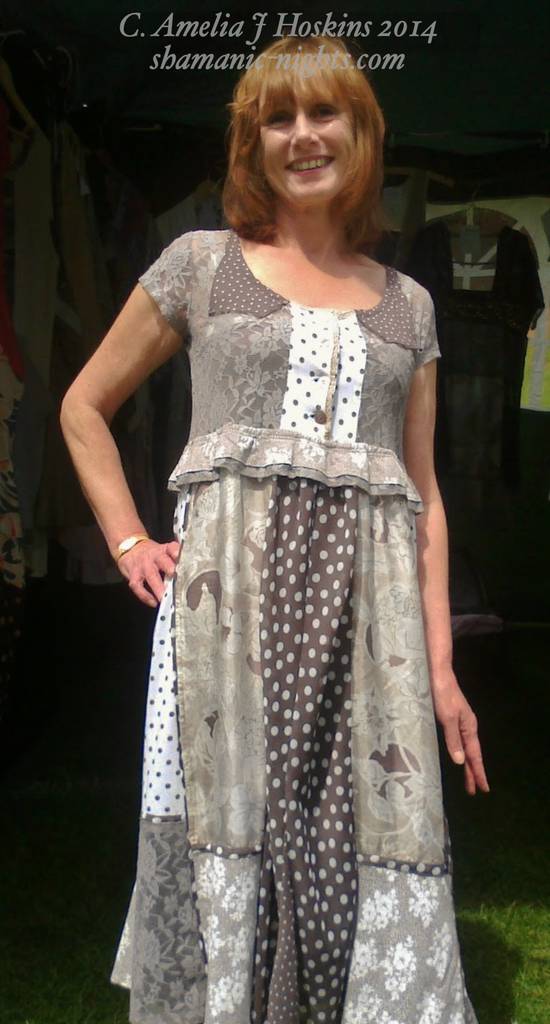 A NEW FASHION PARADIGM being experienced by designers, businesses and consumers is one by which clothes are treasured and valued for a variety of reasons other than a traditional economical 'brand' and the buy-today, throw-away-tomorrow fashion business model.
THE SLOW FASHION CONSUMER enjoys clothes with individual stories which use upcycled fabrics.
Shamanic Nights uses fabrics from charity shops, mostly very new and good quality. 'Stonewashed Angels'  uses coffee/white dress prints, combined with original silk painted panels of angels and plants in colours to coordinate with fabrics used in dress.
CHARITY SHOPS are brimming with last season's clothes. Textile recycling and disposing companies are selling old clothes to Africa, impacting indigenous economies by reducing artisan production.  There are now ethical fashion companies sourcing fabrics more carefully from local communities, such as small scale silk producers, and embroiderers.  
STOP CONSTANTLY MAKING CLOTHES - TO REDUCE TEXTILE LANDFILL
High street chain fashion stores rush to produce ever cheaper clothes to compete.  Perpetual demand is created by companies who put out seasonal fashion 'trends', providing clothes cheap enough for customers to buy new stuff every season: and every week.   Cheap clothes are only possible due to sweatshops in far away lands, where labour is very cheap, in order to increase companies' profits.  The Rana Plaza factory collapse alerted everyone to slack business practice outside of countries with safety regulations.
This merry go round results in a proliferation of cast away clothes, a wasteful situation.  Textile waste statistics are alarming: 13mn tons per year in USA.  UK statistics ?  The constant waste of materials, with their associated production costs, is both an environmental and health dilemma. If you value the raw materials, textiles of ecological origins, you may value your garment more highly, and wear it for many years with a focus more on your clothes being timeless.
A CIRCULAR ECONOMY FOR TEXTILES
Organisations are growing to help with this problem: via the Circular Economy. (Repair company. Hiring company.)  [ADD Video Nov. 2020]
SOME GOOD BOOKS
'To Die For' - 'Is Fashion wearing out the world'? by Lucy Siegle
'Shaping Sustainable Fashion' - Changing the way we make and clothes, edited by Alison Gwilt and Tina Rissanan.  Pub. Earthscan.
'Refashioned' - Cutting edge clothing from up-cycled materials - by Sass Brown.