Shamanic Nights exhibition at the Totnes Costume Museum
Curated theme - 'Innovation and Fashion' - 23rd May‭-‭ 14th June‭ ‬2011
Exhibition Curator Hilary Burns I remembered from 1970s Textiles Degree course. She studied weave; myself silk screen printing. Now a basket weaver, she had also moved to Devon.  It was uncanny how she spotted my work at a craft fair and chose for the exhibition.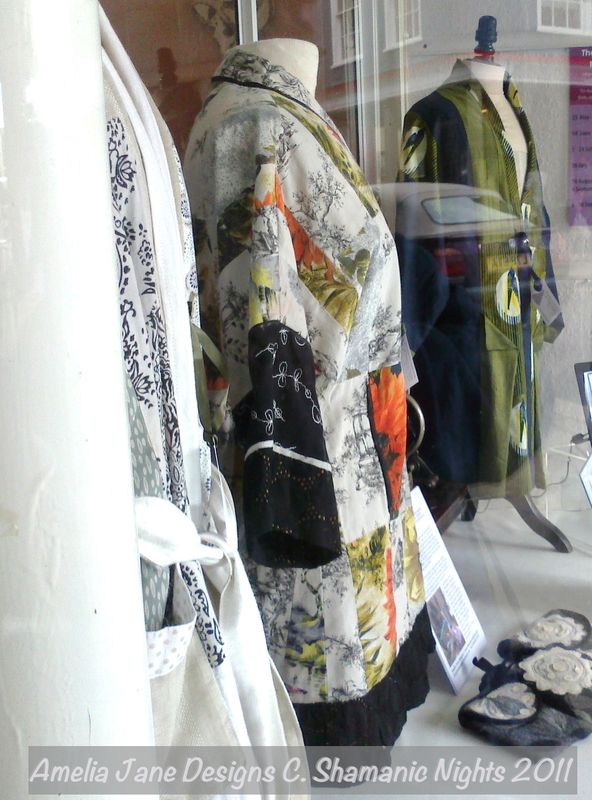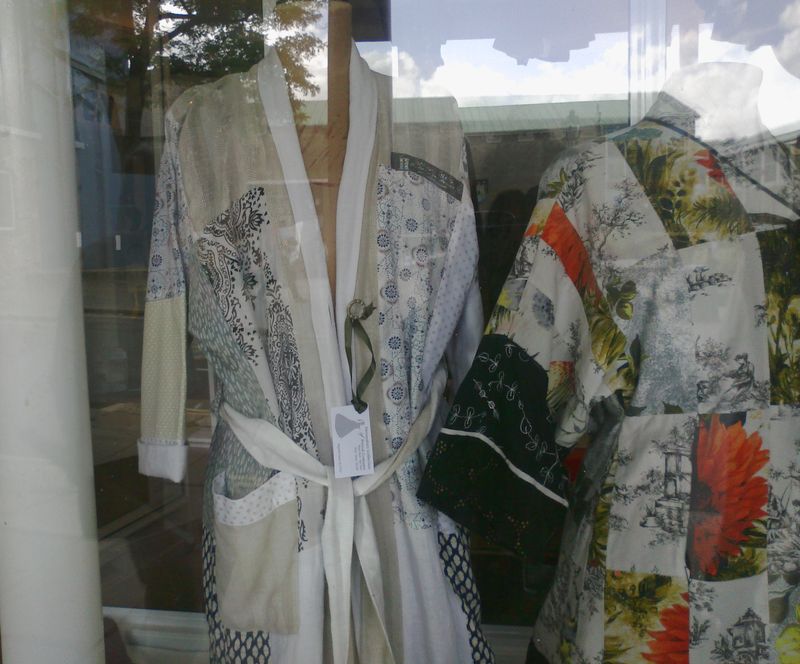 Totnes Costume Museum Robe Oriental Cruise and Robe Mandarin
LINEN CRUISE 1.
Robe in white linen and viscose prints shows black underside lapel of white linen collar and front edging (cut two collars contrasting) and two patch pockets.  Front has silk painted panels.  Robe is loose T-shaped structure in patches with no traditional tailored 'armhole'.  A diamond gusset is inserted under arm, under the 'T' join. Patchworks are large and long as originally intended for a bed quilt.
'Oriental Cruise' 
Exhibition featured first Robes made: using white, cream and ecru linens with viscose and cotton printed patchwork rectangles.
Upper left sleeve shows silk painted panel. Design was copied from a small scale print on robe, seen below arm, but with enlarged scale, and keeping same colours.
Robe sold.  A very pleasant scheme which may get revisited.
'Mandarin'  (sold)
Modelled by fashion student, at Cockington Court Crafts Fair
Short cotton Kimono Dress (furnishing weight):  deep no-fit sleeves and stand up 'mandarin' Chinese styled collar, sleeve turn-ups and bound edged side pocket.
Patchwork contrasts of white/black toile design and orange poppies/olive leaves.  Black and white striped lining.  Unusual colour contrasts for me, but used up similar heavyweight cottons
'Mandarin' - Making
Named for a Mandarin-style collar made with a strip on a curve (cut x 2 on bias): Piped edge in black; also on pockets.  Patchworks of equal 8 inch x 4 inch.  For attractive 'turn-ups', use contrasting fabric.  Sleeves have faux turn-ups by adding black lace layer below last black patch layer, which turns back to be stitched also 2 inches up inside lining, to reveal black/white striped cotton-satin lining.  The seam formed when stitching to lining,  gives a thicker strong line, which will enable a turn-up to sit at the fold-up nicely.
Dress hem is same black lace as end of sleeves. Adding a bottom hem layer 'frames' the garment together; cut double to stitch down inside, encasing the edges of the upper patchwork.   Dress uses same striped fabric for front facing lining for interest.
'Bluebird'  (sold)
Dress was also chosen for the Totnes Museum Exhibition.
Features three fabrics: olive silk, royal blue linen, with 'bluebird' printed cotton.
Independent fabric colours were a perfect match for each other, the green silk blending well next to the printed cotton.
Modelled by keen browser in rainy Exeter crafts market.
Patchwork robes can be bespoke made to your measurements with your own fabrics. Send me details of your measurements to adjust dummy. If you have an idea of colours, I can show you photos of coordinates in my collection.  Silk painting additional quote on enquiry.
Making fee for standard kimono styled robe with collar extended down front facing.  Style tweaks can be arranged.
Long large patches:   Short to knee - £160,  Ankle length - £200.00
Small patches 8 inch x 4inch:   Short to knee £220,  Ankle length £260.00
Extra materials cost would be lining, as I do not stock new, although I have some thin white cotton in stock.  Robes need lining.  Summer dresses need not, as patches are over laid zig-zagged.