HANDMADE ORIGINAL CLOTHES - A variety of leisure, fun and decorative ladies' patchwork.
Aldebaran
Uniquely shaped, with deep kimono styled sleeves and
collar extended to hem.
Red-Pink-Black-Cream patchworks. 
Knee length with lace-up adjustable front to adapt bust size.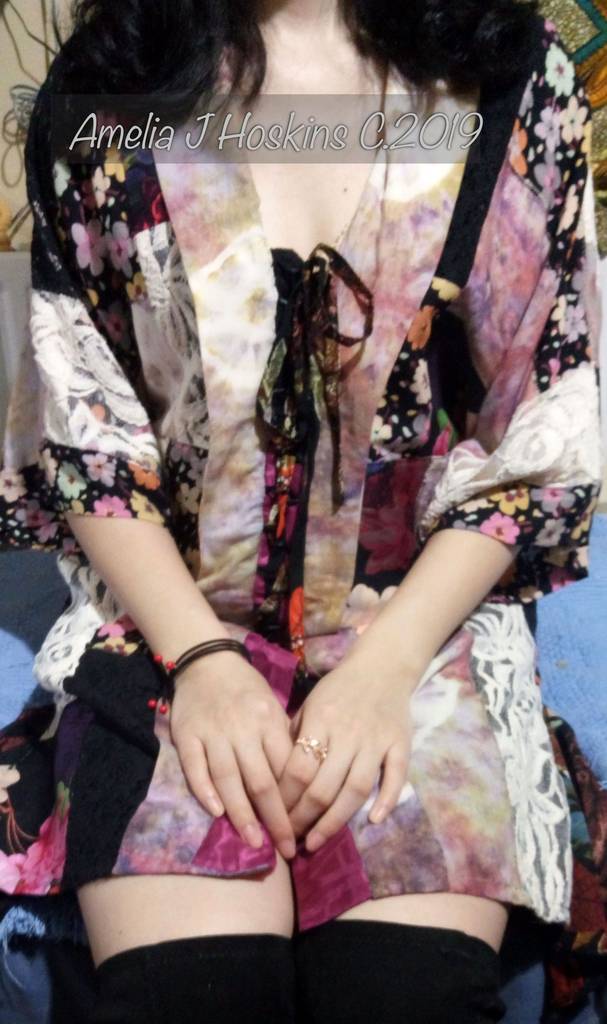 Purple Shimmers
Kimono styled below knee dress, (same style cut as dress Aldebaran) in panels of
purples, navy and floral prints. 
Close fitted back top,
with skirt section gathered slightly below bust
into high waist.
Unique adjustable front lacing.  Front lower skirt stitched closed but can be reopened to customer's preference for open lower dress below lace-up.
[Gallery under reconstruction]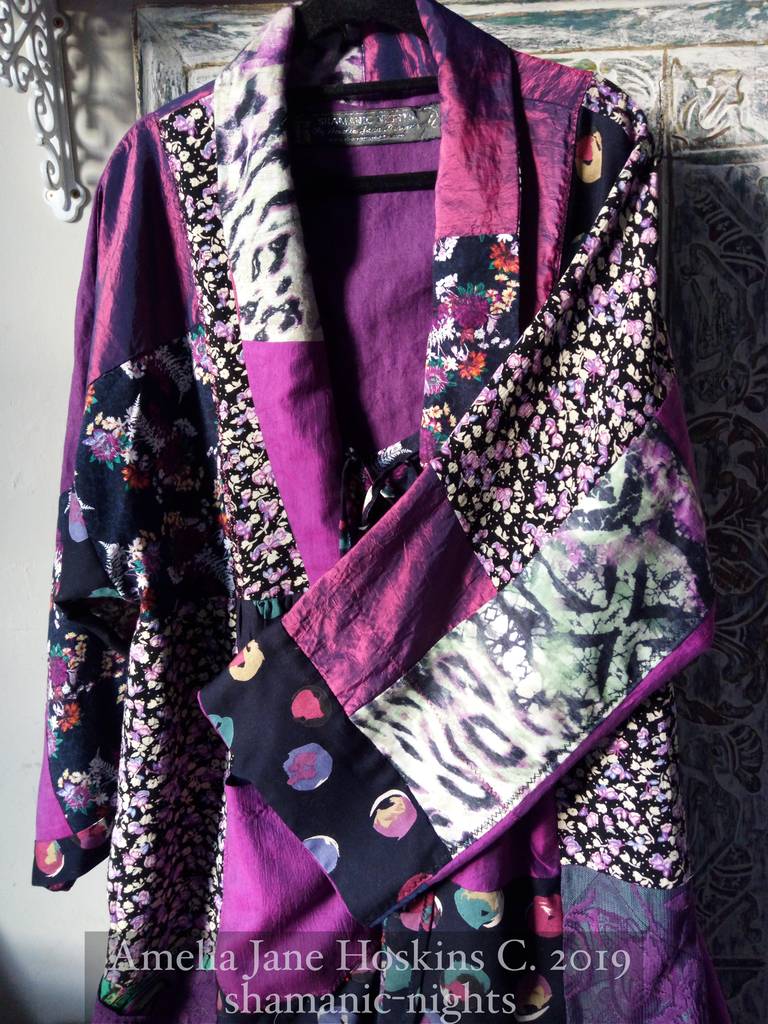 Cappuccino
Two dresses in coffee/cream/black
patchwork: multi styled with stretch cotton bandeau top
which performs dually as a dress
bust hold up, or cummerbund if worn as a skirt.
Two variations: Black lace hem, lined in nylon knit with coffee coloured feature patchwork print 'Love Never Dies'.
W
hite fringed hem version, unlined, no feature coffee patchwork; just cream and black.
[Gallery under reconstruction]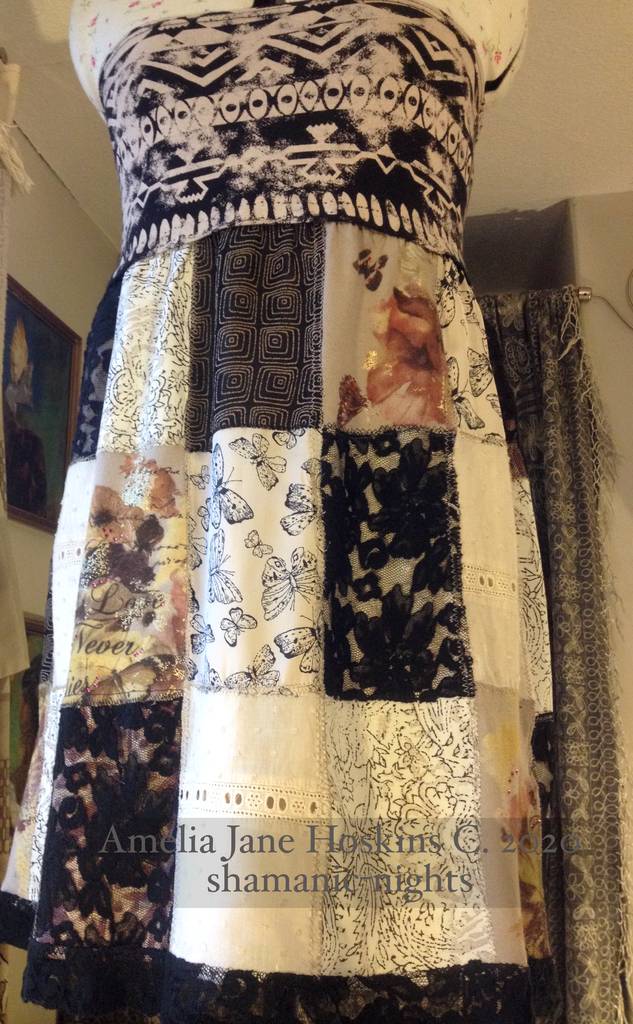 Tropical Parrots
Lose fit large shirt dress in o
live green/black/bright pink with
parrots print back, and
beige green orange passion flowers
front printed panel. 
Lined in black viscose shirt with orange flower print: allows dress to be worn in reverse.
[Gallery under reconstruction]
[To be added to Etsy shop]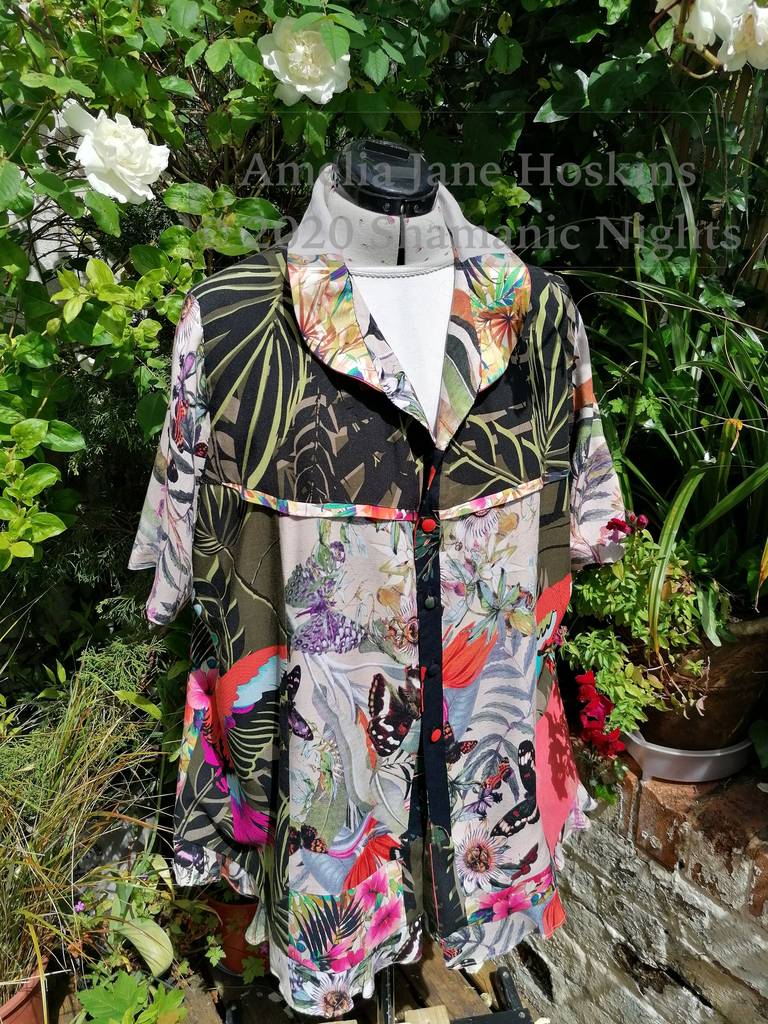 Robe dress in blue cotton and viscose; below knee,
with unique seed pod applique decoration.
Collar is silk painted, on hand dyed gold collar, from maker's
eucalyptus bark dye session.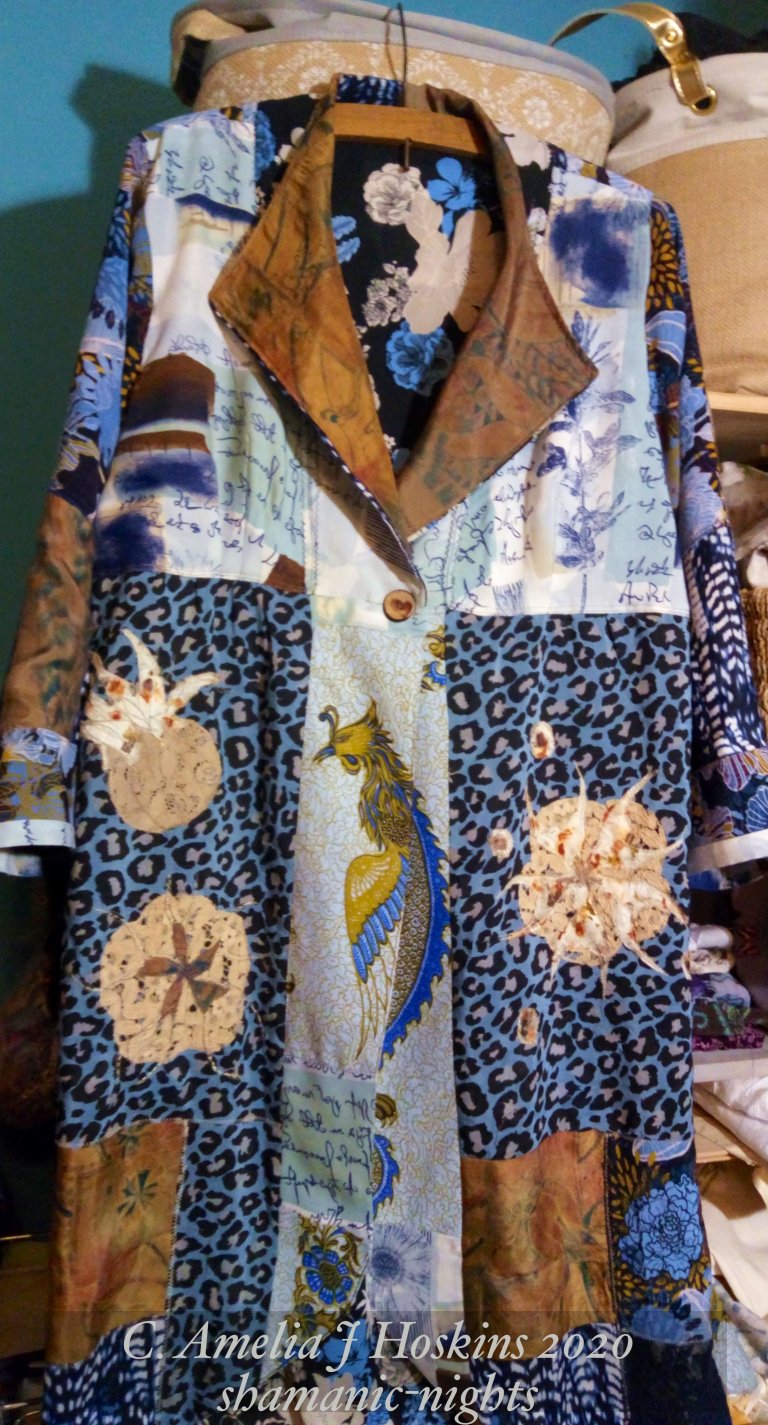 Short sleeved large smock top in same fabrics as Tasmanian Blues robe-dress.
Front buttoned, floral print lined.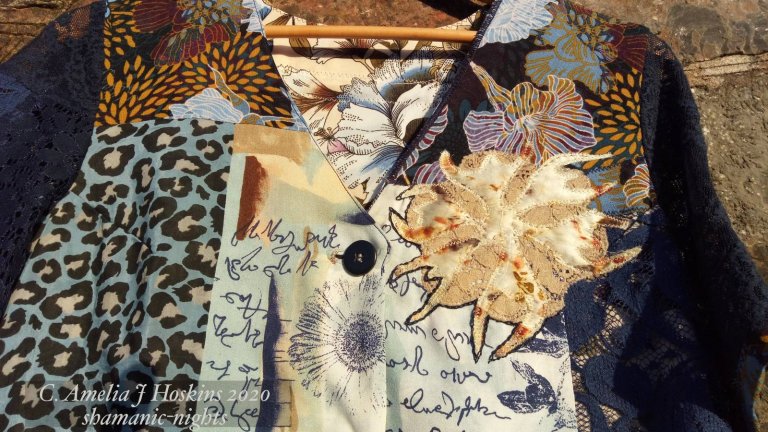 Cherry Fluzzies
Two patchwork panelled

dresses

with bright cerise

knitted buttoned tops.
Two variations:  An
A-line knee length; and a f
lared wide skirt with frilled hem on knee
Both have same knitted top. 
[Gallery under reconstruction]
[Add to ETSY]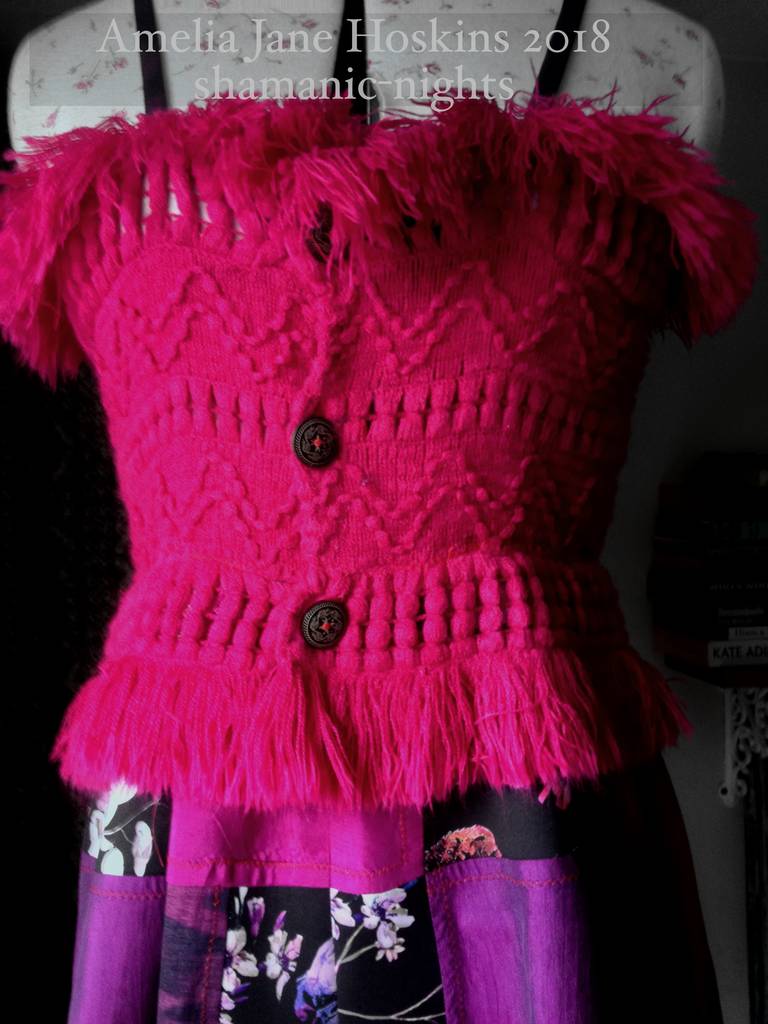 Adaptation of scarlet red linen skirt, with linen and viscose back panels using Vogue pattern.
Ornate front polyester print patterned applique.  Maker's hand silk
painted lower tie-back panels of 'Hopi Birds' on black, and white.
Name derived from
abstract bird designs on Hopi pottery.
Pinafore dress with full silk painted bib front, and p
anels of thick grey cotton with silk piped
edgings. 
Silk painted front panel of 'Hopi Birds', from Hopi potter designs.
Slim fit hips 34-35: model Marian
Frivolous tea party dress
in pink and maroon silk, with
silk (bundle dyed) sleeves,
pink-mauve shot taffeta and cotton with pansy print.
Silk painted front panel of nigella seed pod with butterflies and banana leaves.
[Add to ETSY when sash added]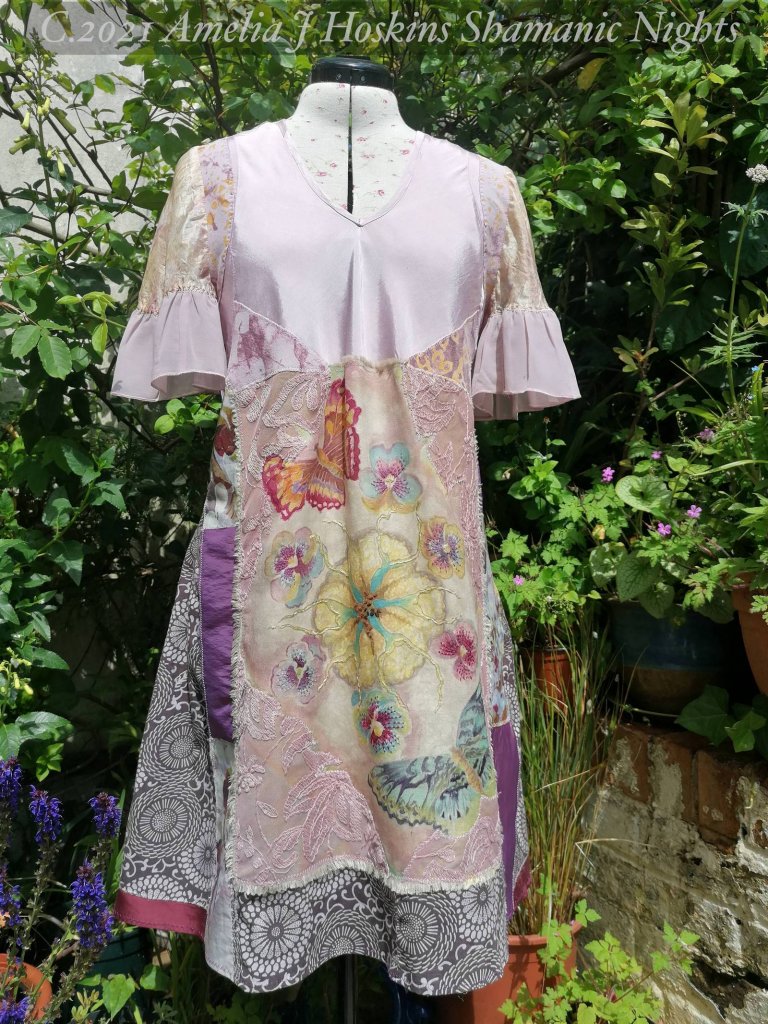 Shirt sleeved button fronted smock top dress in grey and lilac, with l
ower section gathered at bust line.
Lilac/white long striped sleeves have pre-existing turn up tab to elbow. 
Muted grey/white viscose rose print front and back. 
Front has large silk painting one side, featuring Kokopelli design from rock carvings.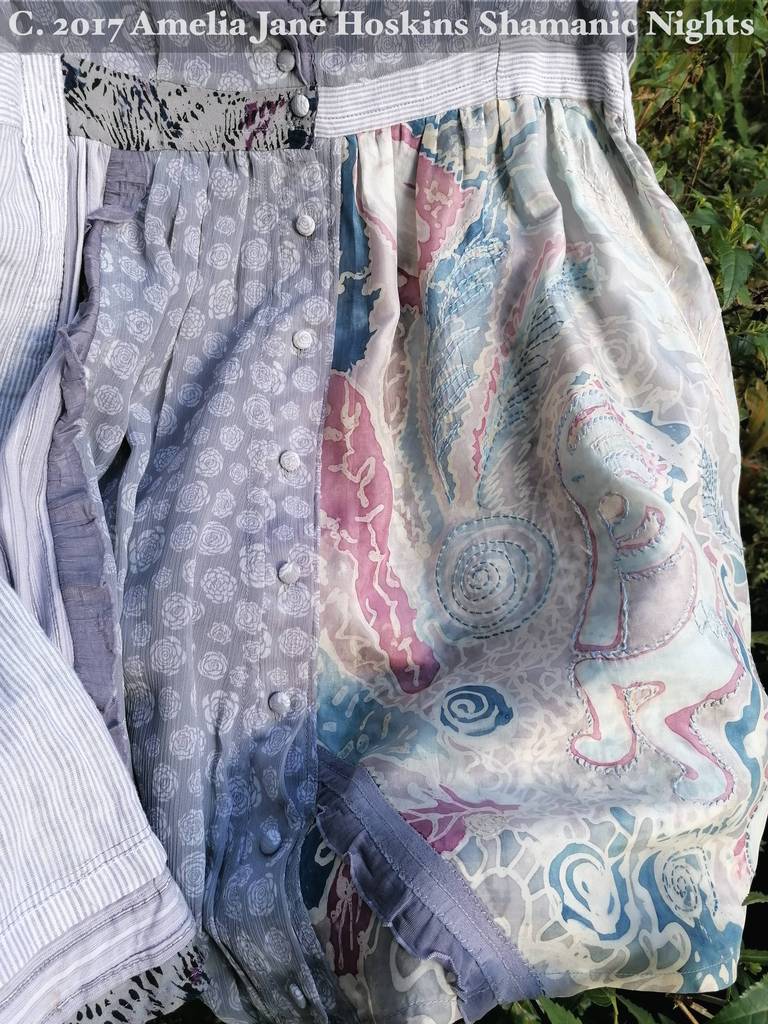 Dress converted from mustard yellow cotton/viscose tunic top, 
with
pink/green abstract print lower frill.  Lace lower frill, sleeves and collar.  Extra long featured
two toned pink sash.
Maker's appliqued silk painted panel of
'Piri' figure from Persian illustrations.
[to be added to shop 2021]