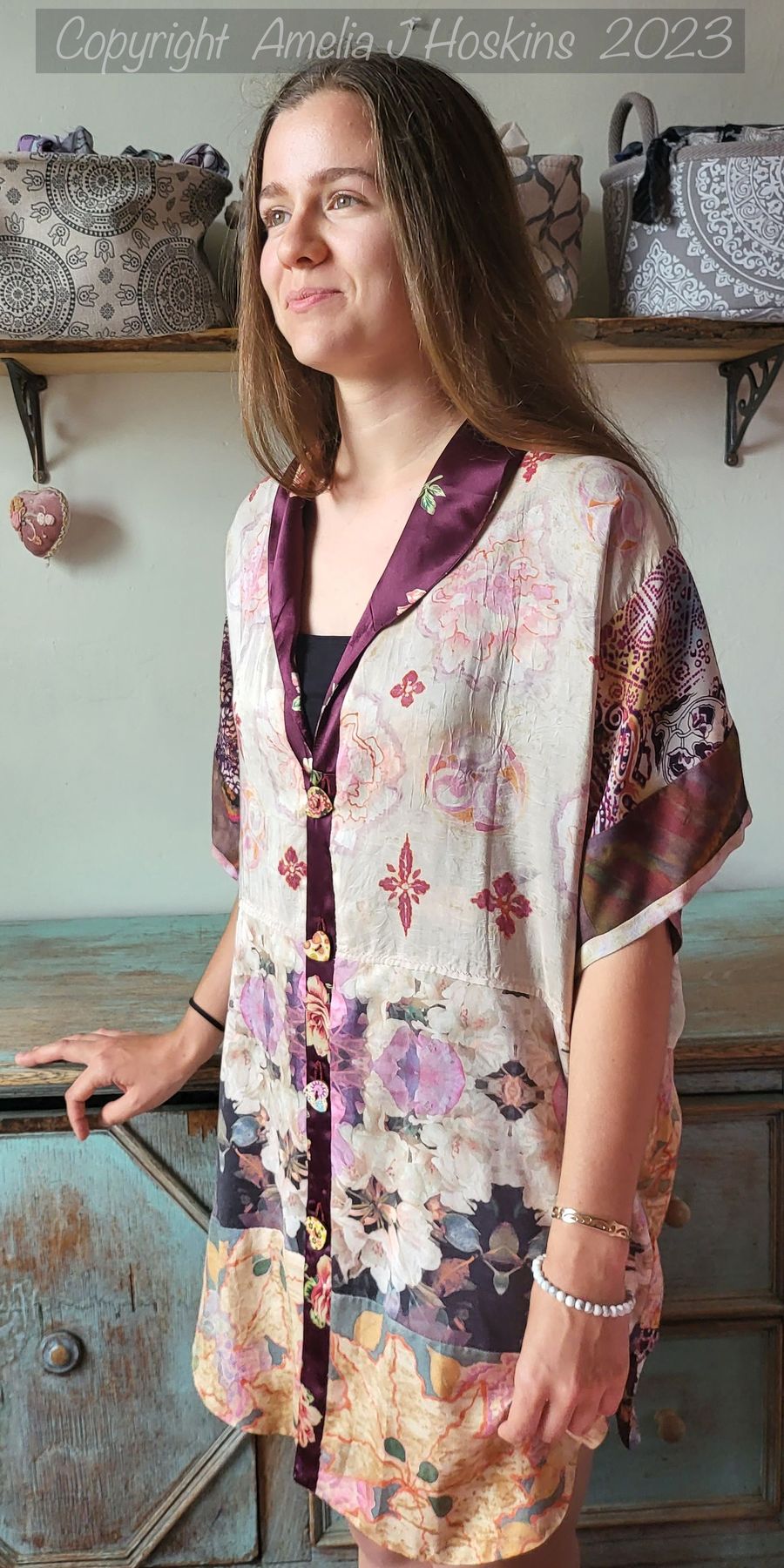 Silk and Satin Kimono Dress ' ROSE ANTIQUE'
Patchwork features hand painted habotai silk
top and lower ahimsa silk painted patchwork
Patchworks created over burgundy polyester satine shirt/nightshirt which forms lining.  Existing collar and button welt are utilised on the outside, while patchworks are created exactly to fit over shirt shape.  The burgundy satine has a pink rose print which top fabrics coordinate with.  Sleeves have been extended some inches, with darker purple Ahimsa silk borders left over from a previously logwood-dyed silk.  Two different silk painting pieces were created to coordinate with all chosen fabrics.   Loose size fits up to 42" bust.  Model is average size.
Silk Painting (top):  Comfrey dyed Habotai silk with hand painted Roses over pale soya wax resist, Celtic Triskels and red motifs from one of the prints.  The cream silk looks antique in tone when laid over the darker burgundy.
Silk Painting (hem):  Hawthorn dyed Ahimsa silk with bundle dyed texture of Sycamore leaves, then hand painted over with leaf outlines and roses, with painted motifs copied from a coordinate.   Silk painting method below...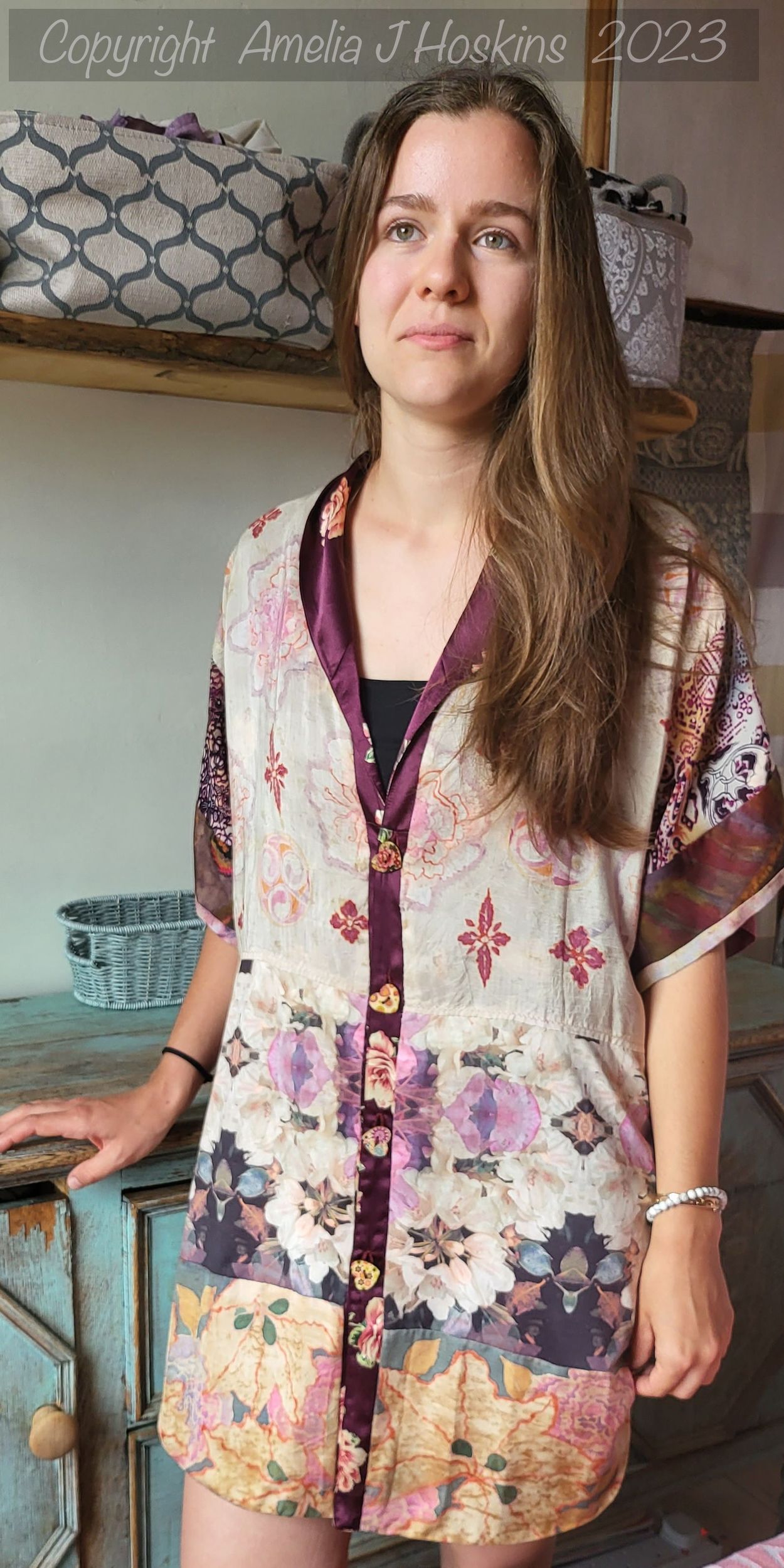 COLLAR:  Utilised from lining shirt. The outside of the shirt becomes the inside lining of Kimono.  BACK:  Burgundy colour scheme echoed in intricate centre print on voile.
Side Views
Sleeves are extended from underlying burgundy shirt to create 'kimono' style.  Dark purple remnant of a silk painting forms wide extended border.  Lined with colour coordinating viscose in lilac cloud print.  The original outline of the shirt tail slits is followed.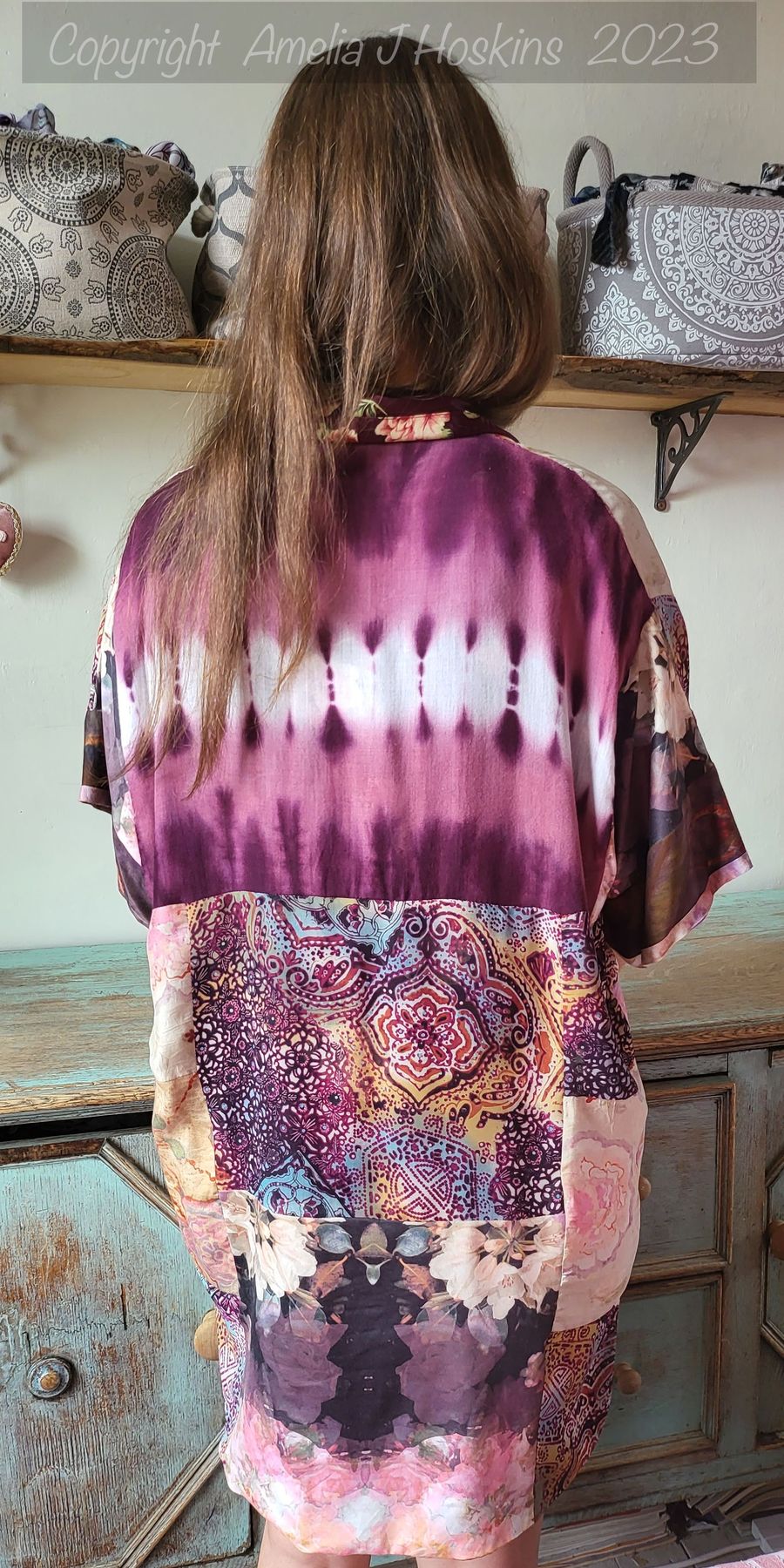 FRONT BUTTONING - Upper - Middle - Lower    BUTTONS - Heart shaped painted wood.
SLEEVES  -  Lining is viscose which extends to outer sleeve to form a border with dark purple, logwood-dyed, Ahimsa painted silk patchwork.
HEM BOTTOM LAYER - Original curved slit outlines followed of underlying burgundy shirt (as lining)
Techniques used in Silk Painting preparations
SOYA WAX RESIST:  My own photos were used, all enlarged to similar size, to make paper stencil cut-outs, for comfrey-soy-waxed-roses.  Rose petal areas were roughly painted in hot soya wax.  When wax was well set, the silk was placed in a cold comfrey dye bath, which showed cracking of wax after immersion, so I squeezed the roses slightly around a centre point, which produced the cracks as lines from the centre of pale rose shapes.
STEAM PRINTED PETALS and seeds are imprinted by bundle-steam method. Result is a few colour imprints of colour in areas between the roses.  Rose petals shapes were lost by the cracking effect, so they were painted finally with a more stylized curly petals.  Triangle was cut out where something was stained.  This was utilised as neck area on kimono construction.  CONCLUSION:  This technique would be good on darker backgrounds, to be tried!
Sycamore Roses Steam Printed Leaves and Painted Roses on Ahimsa Silk
Sycamore leaf steamed bundle print produced a brown texture, interesting by itself; however for this garment, I added more over painting to match with patchwork fabric designs.  The red  outlines weren't needed; a blurred background to bring out the leaf areas would have sufficed.