Persian Piri - Dress with 'Piri' feature silk painting
We get our word fairy from peri/feri winged spirit in Persian mythology. Fairy comes to us from Arabic which has no 'p'.
Dress modelled at Exeter Cathedral Green Craft Fair before crimson sash was added.  The sash echoes the sash in the painting. Dress began life as a short top without sleeves, collar, or lower frills: from an earlier created range with the Piri silk painting rectangles. A deep teal blue version was sold.  After finding the yellow ocre lace blouse in exact colour match; the collar, sleeves and frill were added.  The lower cotton abstract print frill was also added; which links to the Piri colours and gives a weight to the dress.
[To be added to ETSY Shop 2021]
Kokopelli - flute player features in silk painting with feathers, hand and spirals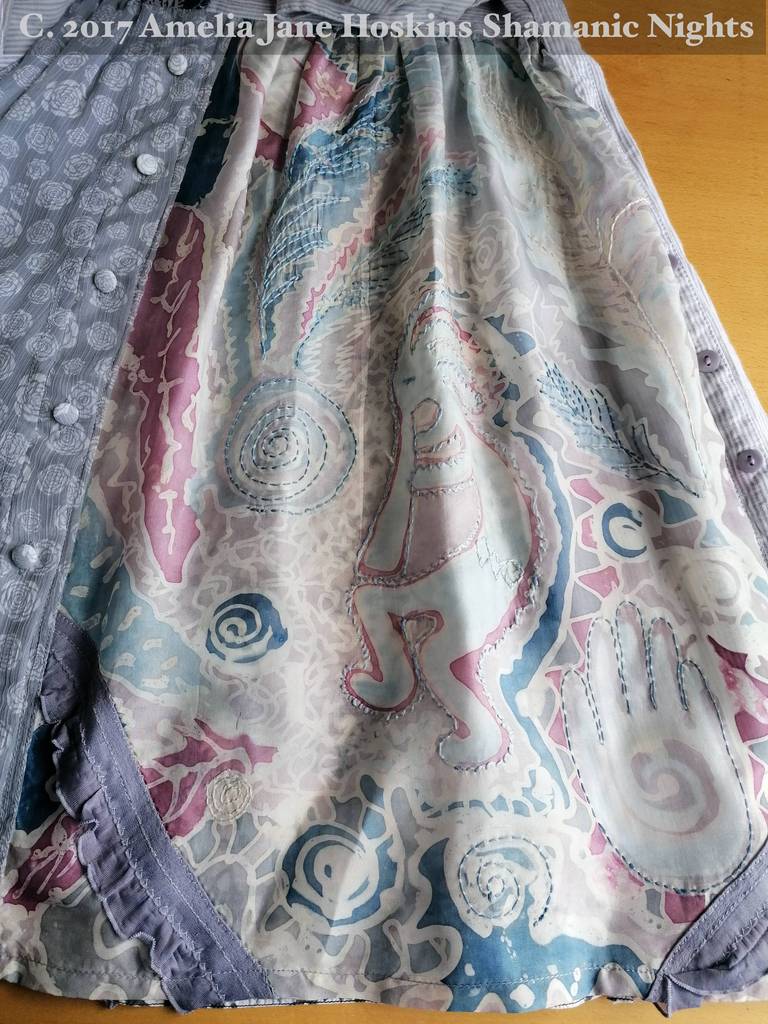 Motif outlines were made with wax batik technique. Melted wax applied with a tjang gives a very fluid line and must be moved rapidly before wax cools, or causes blobs.  The feathers are outlined in nomal gutta resist for silk.
After applying dye, silk is steamed, and washed to remove any wax or other gutta resist paste used in the outlines.  Embroidery is used to give definition to motifs.
Habotai silk stretched on a frame.  Motifs of feathers, spirals, Kokopelli flute player, hand outlines. Resist outlines stop dye from spreading when applied.
Predominantly Kokopelli as a 'fertility deity' is a bearer of seeds and the flute could have been used to help the plants grow with music, or simply announce his coming.  Its quite likely such characters travelled for trade through South America and North America, as is believed from the rock petroglyphs.  Images show either head feathers, or antennae; some with balls on the end, which almost look like a map to the stars; which might indicate planting time, as recognised by star positions.
     Kokopelli (koh-koh-pell-ee) is a deity and symbol of fertility recognized by several Native American groups in the Southwestern part of the country. Like other fertility gods, Kokopelli is known to preside over both agriculture and childbirth….survived from the ancient Anasazi    Indian mythology. Kokopelli is also a prominent character in Hopi legends.
A Native American video explanation of how Kokopelli as a man, not a god, brings all the seeds from the previous world. The 'flute' maybe a medicine pipe.  He could be a simple seed seller, or it could even refer to past colonisation of earth.