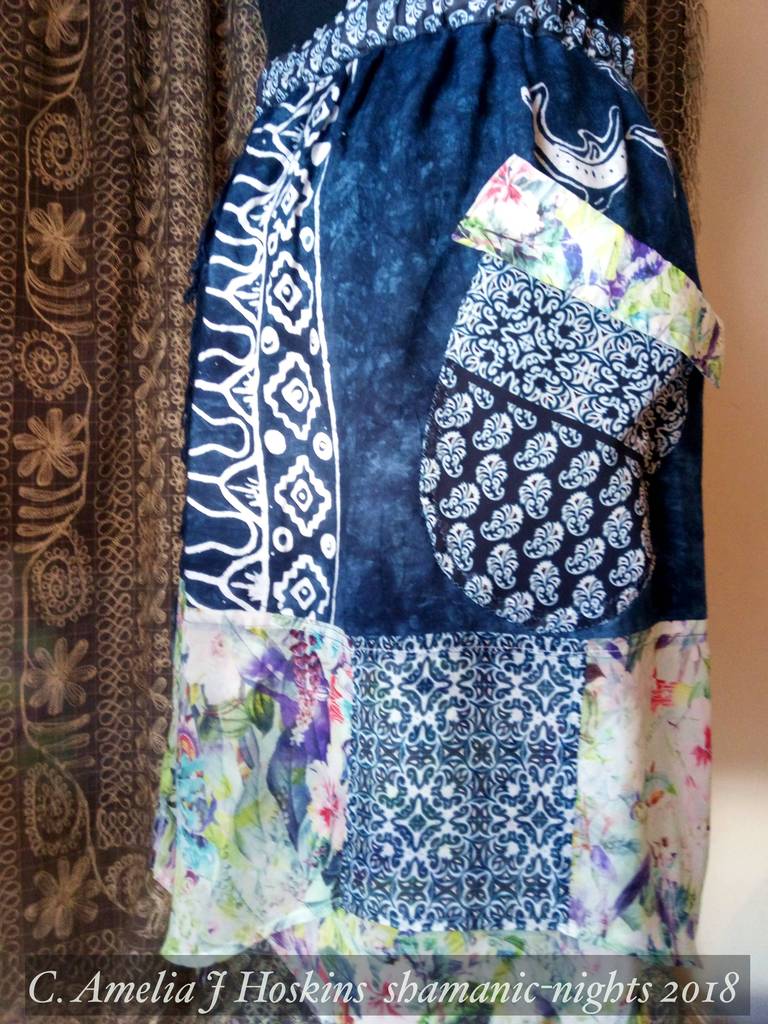 Blue Fabric Coordinates - Summer Craft Show Project
Skirts designed as holiday wear; inspired by mixing and matching my 'blues' collection with blue/white and blue/green.
Turquoise Dreams (available)
Wrap around skirt has good quality vari-toned turquoise viscose curved edge side panels, waistband and sash, with semi transparent printed voiles forming main skirt attached to turquoise silk lining, as hip covering. Long sash belt to wrap around. (slit feed through to be added)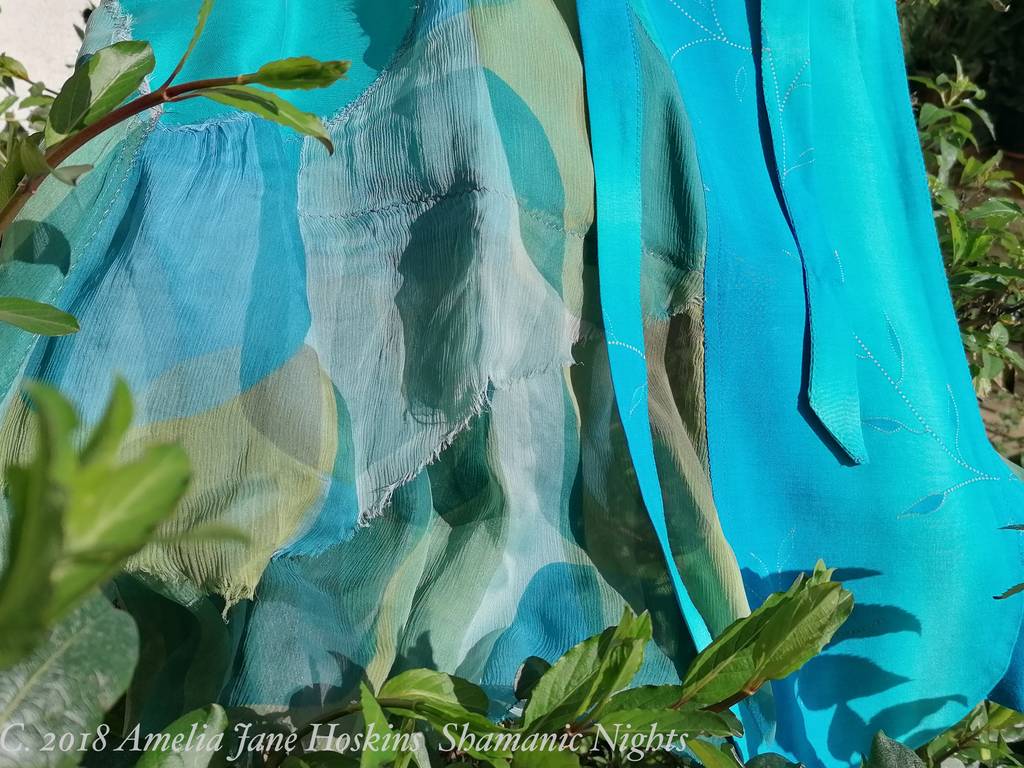 Turquoise Dreams MAKING layers
Blue Tiger (available)
Blue, purple and black polyester voile layers over airforce blue satin lining, plus a contrast light blue floral fabric as frill decoration and front edge.  Elasticated waist facilitates wearing style in any position.  See 'Making'.   SIZE: Length 18 inches/46cm. Waist 30 inch/76 cms (max elastic stretch 36 inch/91 cms).
Blue Tiger Purple voile layers MAKING
BONDI BEACH II (available)
Stretch swimsuit fabric top print with black tie cord to wrap around through loops.  Cotton abstract ethnic print lower part.  Waist tie will wrap tighter for smaller size, or extend looser as beach wrap for larger size to 34 inch waist, which could also be worn dropped to a 34 inch hip.  To be added to shop.  SIZE: Length 18 inches/46cm.  Waist: 26-28 inch/66-71 cm
Prussian Dolphin MAKING – Lower floral panels
Prussian Dolphins MAKING Elasticated Waistband
INDIAN BLUES wrap around (SOLD)
Main skirt area repeats use of blue/white abstract thin cotton print.  Additional smaller geometric print hem layers (viscose/polyester).
Waistband, side overlap and sash in Indian navy blue/green cotton, which is not slippery: good for waist and sash as will hold a knot well.
(Commissioned by Jennifer)   See Indian Blues MAKING: waistband with slit for threading long sash through around to back.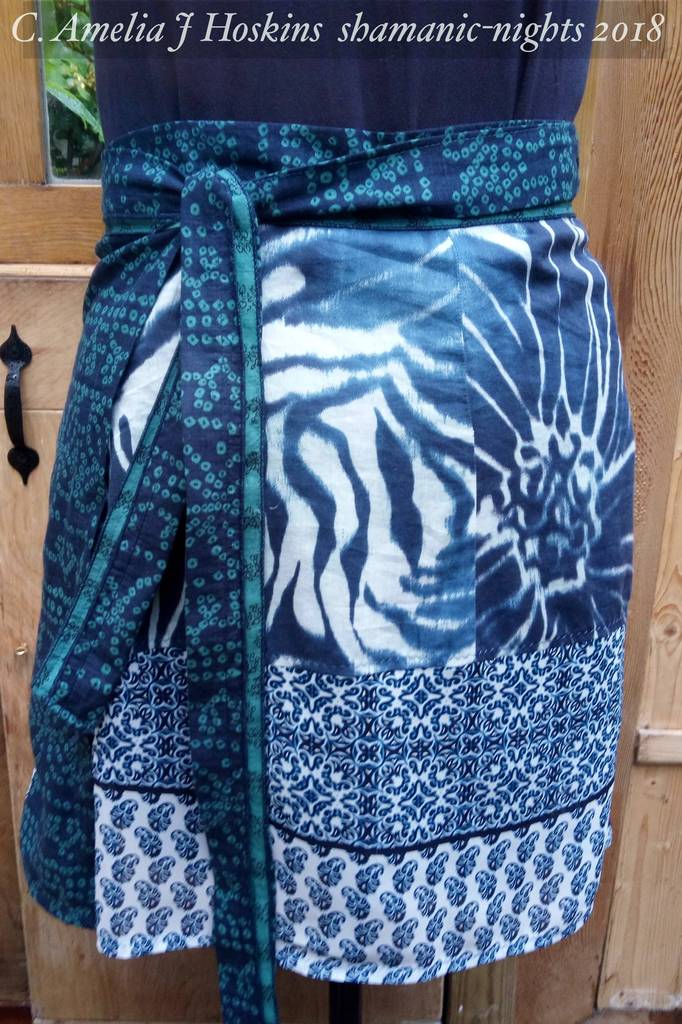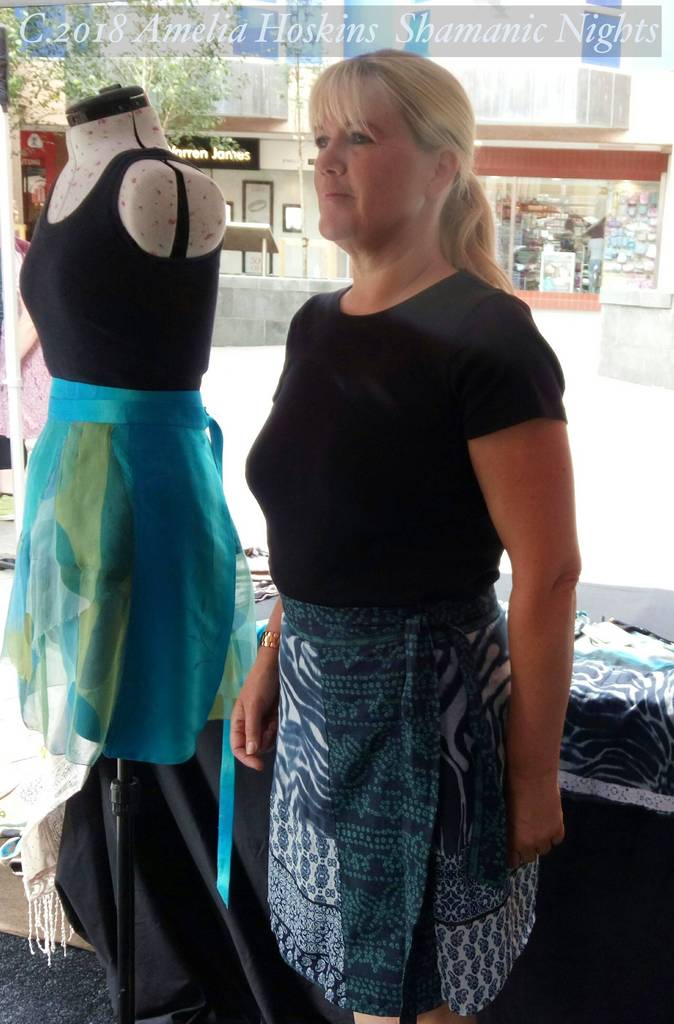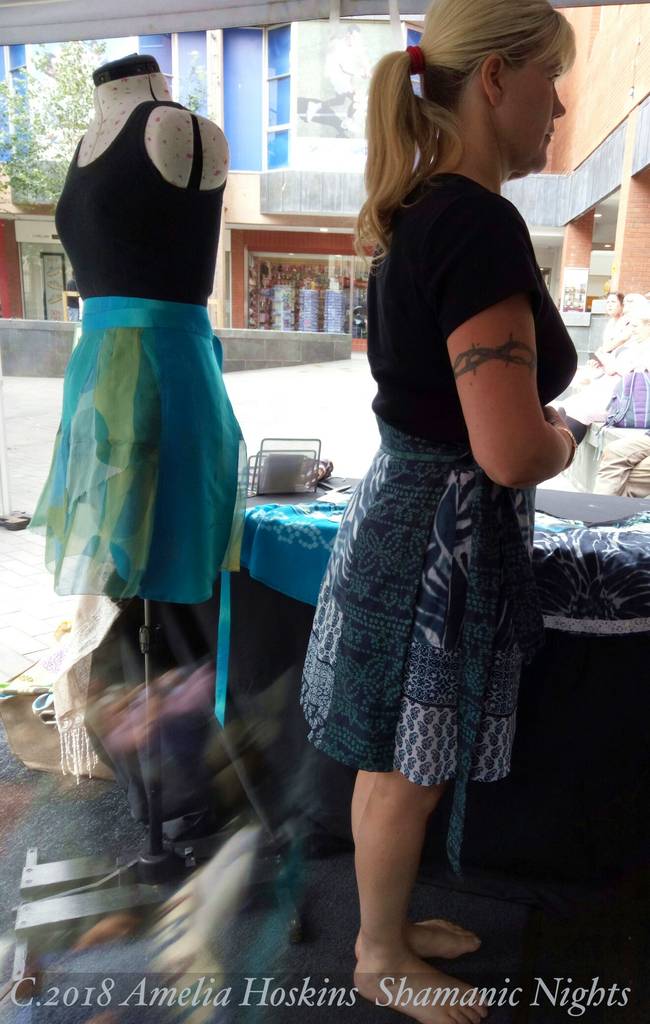 INDIAN BLUES Cotton print wrap around
MAKING Wrap around skirts
A-line shape created by putting darts at top of front and back waist of an A-shaped rectangle (waist to hip).
Skirt rectangle can firstly be made with variety of patches. Recommended patch quality: cottons at top with viscose or polyester lower which hangs well.
When darts made and pressed, lay skirt pieces flat and cut lower parts following the curve created in top part.
Allow extra 12 inch to rectangle, for overlap side.  Due to patch joins, I use a patch length for side overlap.  Choose feature fabric which can also be waistband.
See making photos for bound slit which must be in waistband to pull sash tie through, to hold waist in place.
A-line shape fabric can be taken from a dress which is too small: add slit at side with added flap length.  Use upper dress part for side flap.
A curved front flap edge is optional; on one side or both.  Alternatively to a flap section, rectangle can have piped edging. (not featured here).
SLIDE SHOW - Prussian Dolphin - Blue Tiger - Turquoise Dreams